Starting Your Invisalign Journey? Here's All You Need to Know
There's a good chance that you're thinking of starting your Invisalign journey (that's probably why you're reading this) or you just want to learn more about Invisalign®.
Invisalign® is one of the most popular dental care options right now, and with the many perks it offers, it's easy to see why a lot of people are opting for Invisalign® rather than traditional metal braces.
What Exactly are Invisalign® Invisible Braces?
Invisalign® trays are transparent plastic aligner trays that are used to better align a person's teeth. Unlike traditional metal braces, Invisalign® is more discreet and is the ideal option for people who want to align their teeth without dealing with the embarrassment that often comes with visible metal braces.
Invisalign® aligners are used to treat a wide range of dental issues including underbite and overbite. Unlike traditional metal braces, you'll also require fewer follow-up visits with Invisalign®, although you should still see your dentist for routine check-ups and cleanings.
Invisalign® offers more comfort and convenience, allowing you to easily remove the plastic aligners whenever you need to brush your teeth, floss, eat or drink.
The best thing about Invisalign® aligners is that they are almost invisible, so you don't have to worry about anyone gawking at your braces – it's hardly noticeable. The confidence that comes with using Invisalign® aligners is one of the main reasons why they are so popular, plus they do a terrific job when it comes to improving your smile. With Invisalign®, you are less likely to experience any complications or require adjustments.
How Do You Get Invisalign®?
The process of getting Invisalign® is quite easy, especially with a skilled dentist. If you've decided to start your Invisalign® journey, you need to start with a consultation with your dentist. During the consultation, your dentist will inspect your teeth to detect signs of poor alignment.
Next, your dentist will educate you about Invisalign® and how it works. After this, your dentist will take digital images of your teeth. These photos will be displayed on a screen to show you how your teeth will look throughout the treatment.
Then, this data is sent to a dental lab to make customized Invisalign® trays for you.
Once the Invisalign® aligners are ready, your dentist will fix them on your teeth and give you further instructions and information on how to clean, insert and remove your aligners, as well as the duration you should wear them each day. You'll most likely wear your Invisalign® aligners between 20 to 22 hours per day, but the duration may vary based on your dentist's recommendation.
Benefits of Invisalign® Invisible Braces
Here are some of the benefits of Invisalign® and why you should get Invisalign® if you are considering getting braces:
Hard to Notice
Perhaps, this is one of the best things about Invisalign® aligners. They are not necessarily invisible, but they are hard to notice when worn.
Comfort
Invisalign® aligners are made of smooth plastic making them much more comfortable than traditional metal braces. Invisalign® trays do not have any sharp edges and are custom-made to fit your teeth.
Hygienic
You can easily remove your Invisalign® trays whenever you want to brush your teeth or simply clean your Invisalign®. This helps keep your teeth and gum healthy.
Less Treatment Time
With Invisalign®, you don't need as many check-ups and cleaning as with metal braces. Also, Invisalign® works fast, so you'll get your desired result in less time than any other teeth straightening option. If you want to learn more, watch this video.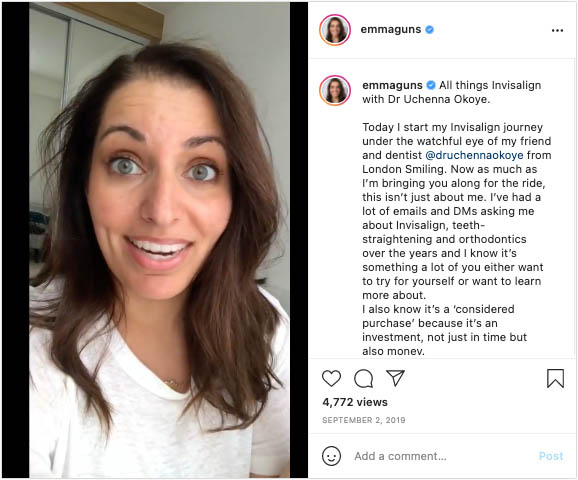 Start Your Invisalign® Journey to a Perfect Smile
Are you ready to start your Invisalign® journey to a perfect smile? Visit or call London Smiling and let Dr. Uchenna Okoye and her team of dental care experts work their magic. Request an appointment here.
Aesthetic dentistry is booming with an unexpected rise in demand for Invisalign invisible braces. Statistics reveal there was a 12 per cent increase...
read more