Welcome to the home of beautiful smiles
Celebrity dentist and London Smiling's Dr Uchenna Okoye, who features on 10 YEARS YOUNGER, believes that the perfect smile looks like your own – but better. She is renowned for her passion for creating beautiful smiles with personality and character in a relaxed, inviting environment; "at London Smiling we refer to our patients as 'guests' to reflect the way we care for you."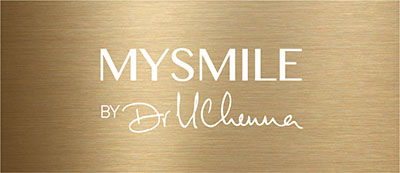 Introducing MYSMILE Teeth
Whitening Pen
The perfect confidence boost for a dazzling smile. Re-mineralising and instantly brightening teeth on the go.
Recognised as  oral care hero in the Get the Gloss Beauty and Wellness Awards 2021, dedicated to celebrating the best in skincare, haircare, wellness and self-care.
Expert advice from Dr Uchenna in this great piece by Eve Simmons for The Mail on Sunday. gives valuable insight into Menopause and its effects on your oral health. 
Dr Uchenna transforming lives by transforming smiles in Channel 5's reality TV show, 10Years Younger in 10 Days.
Both practices in London – on Goodge Street and on Gloucester Road – are designed to be oases of calm where Dr Uchenna and her team provide a private dental service, offering a full service of dental care from hygiene visits to fillings and implants, right though to creating a full smile design.
"Attention to detail is at the heart of what we do, from using the finest porcelain, to ensuring each guest receives pain-free dentistry, or simply designing a smile to suit your personality and lifestyle using the most advanced skill and technology."
Dr. Uchenna Okoye is UK's best known
cosmetic dental expert and Channel 5's celebrity Dentist on the popular "10Years Younger"
She is renowned for her genuine passion in creating beautiful smiles. Her ethos is – to create a smile that looks like you…but better.
Dr Uchenna Okoye qualified at the prestigious Guy's Hospital, London and is a world expert in Cosmetic Dentistry.
Hooraaayyy! MYSMILE by Dr. Uchenna Whitening toothpaste has been recognised as one of the oral care heroes in the Get the Gloss Beauty and Wellness...
read more